It is only possible to password protect your publications if you are a PREMIUM or PLATINUM user. If you have a BASIC account and wish to benefit from this feature, please upgrade.
You can password protect your publications on Calaméo using our Subscribers feature.
To do so, first open the properties of the publication you wish to be exclusive to your Subscribers. You can do this by going to the Publications page of your account.

Select a publication and click on the Pencil icon.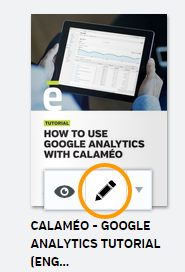 In the window that opens, under the General tab set the publication's visibility to Private and check the "Allow subscriber access" box. 

Click PUBLISH when you are finished. 
This ensures that your publication cannot be viewed publicly.
In order for other readers to access your publication, you can create Subscribers. When creating a Subscriber, you attribute them an individual username and password and select which of your publications they can log in to view.
You may also choose to make your publication visible only to yourself.
In the General tab of your publication's properties, select Private visibility. Do not check either "Allow access with a private URL" or "Allow subscriber access." 

You can modify a publication's privacy settings at any time in its properties.